The Graduation Edition
It's a grand season for graduating seniors at the Music School. We've featured two of these senior recitals from the month of May and invite you to celebrate with the accomplished musicians in the many upcoming performances in June that showcase their musical growth. Congratulations, everyone!
The Scholarship Folk Ensemble, known as Sparrow's Joy, performs at Madeleine Stewart's Senior Recital on May 17.
L to R: Dan Faiella, guitar; Axel Stewart, piano;
Madeleine Stewart and Fiona Shea, fiddle
Photo by Matt Marcil

To view a YouTube video of Madeleine, click below: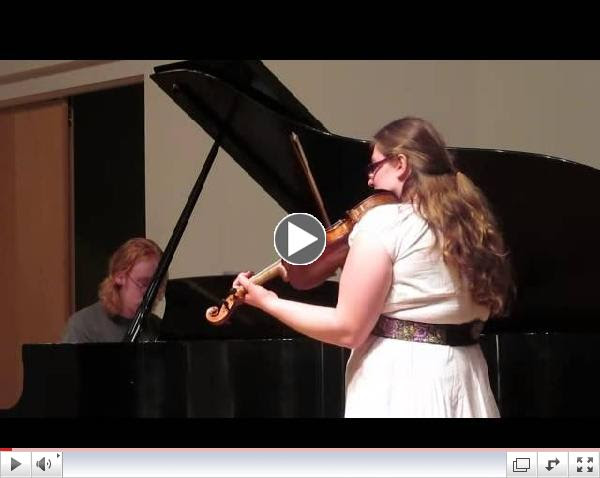 Madeleine and Axel Stewart - Farewell March
A fiddle fling - Madeleine and Fiona
Photo by Matt Marcil
Upcoming Senior Recitals

Sunday, June 1

4:00 pm - Becky Cole, voice
& Hannah Weckstein, jazz piano

Wednesday, June 4

7:00 pm - Voice Department Senior Recital

Sunday, June 8

7:00 pm - Danielle Janos, clarinet

Saturday, June 14

3:00 pm - Nakahla Jennings, voice
7:00 pm - Anna Ambrogi, flute

Sunday, June 22

7:30 pm - Aliza Cilley, voice

Monday, June 23

7:00 pm - Emma Donahue, voice
& Peter Briccetti, voice
Musically Multilingual
Photo by Matt Marcil
Following the highly successful senior recitals of Madeleine Stewart on Saturday, May 17, and Audrey Budington and Lucas Dziezanowski (pictured above) on Sunday, May 25, Music School alumna Liz Faiella wrote this feature story on Madeleine and Audrey.
The Purple Finches Chorus
in
their weekend in their spring production of
"The Jungle Book Kids"
Friday, May 30 & Saturday, May 31
SOLD OUT
7:00 p.m.
Recital Hall
Maria Isaak, director
featuring members of
The Purple Finches
Music & Lyrics by:
Richard M. Sherman, Robert B. Sherman & Terry Gilkyson
Book Adapted & Lyrics by Marcy Heisler
Music Adapted & Arranged by Bryan Louiselle
Based on the Screenplay by Larry Clemmons
Based on the Novel The Jungle Book by Rudyard Kipling
Performances generously sponsored by our friends at
Summer Fun:
Register Now for Camps & Classes
Music & Movement
Tuesdays, June 3 - July 8
With Heather Oberheim
Move, Shake & Sing (8-30 months)
Yoga & Dance (2-6 years)
Sing, Dance and Paint (3-6 years)
Jazz Camp
July 7-11
With Tom Robinson (piano), David Tonkin (guitar), Don Williams (bass), and John Faggiano (drums)
Monday through Friday from 9:30 a.m. - 1:30 p.m.
Creative Arts Camp
July 14 - 18 & July 21-25
with Maria Isaak, Heather Oberheim, and Danielle Hinton
Singing and instrumental music,
dance and creative movement, and visual arts
for children entering grades 1-6
Individual instruction for
adults and children
Lessons are available for all ages and musical abilities in voice and most instruments on a flexible schedule a
greed upon by student and teacher, taught by Music School faculty members.
Photography by Geoff Forester